Solution Architect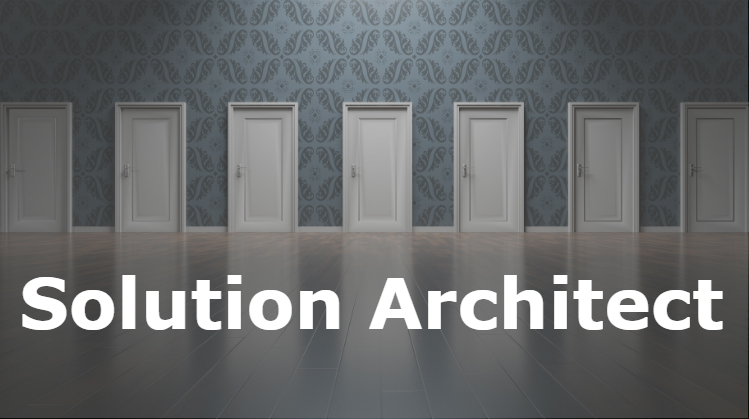 About the company:
Tryzens is an international digital commerce consultancy. Their areas of expertise include delivery of eCommerce solutions, multi-channel retail solutions and project management amongst others. The company has a platform-neutral independent approach working with the world's leading technology partners (Salesforce Commerce Cloud [formerly known as Demandware], IBM Websphere, Hybris, Magento and EPiServer). Tryzens has been awarded Salesforce Commerce Cloud's EMEA delivery partner of 2017!
About the position:



As a Solution Architect you will use your expertise to drive pre-sale activities, discovery sessions and implementation of various integrations for the customers. You must possess a unique blend of customer-facing skills, strong technical and analytical skills, an out of the box thinker with strong presentation skills and ability to engage all business stakeholders to achieve complete customer satisfaction. You will also support key customers and strategic partners in growing their capabilities, business operations and profitability through continuous development of solutions within the Salesforce ecosystem and partner community. Solution Architect is a fast-paced role where the successful candidate will be part of the solution architecture team that embraces open communication, innovation, teamwork and a shared focus on customer success.
Main activities:

• Design and develop innovative solutions to customer requirements using Salesforce Commerce, Sales, Marketing and Service Clouds
• Maintain current architecture, design and implementation of various 3rd party systems and services
• Assist in the development and implementation of reusable components and service offerings, including definition of tasks, deliverables and estimates
• Provide technical solutions in compliance with the industry and Salesforce ecosystem best practices
• Create solution blueprints, technical solution documentation and user guides
• Develop training content based on experience of making customers successful with the technology
• Drive client and internal resources and activities to ensure deliverables within tight scope and time lines to ensure customer satisfaction and scale
• Mentor technical team members and assure they are up to speed with the latest technologies and Salesforce product features
• Bring thought leadership around Product Success and self-driven to lead with minimal supervision
• Ability to travel across different regions - Europe, ANZ, to provde training to clients and partners on how to use and maintain all Salesforce products and 3rd party services • Lead on-site workshops related to complex solution integrations, customer specific use cases, architectural design assessments and ecommerce operational best practices
Requirements

:

• Domain level understanding of Cloud Infrastructure and Softaware as a Service products
• Experience with Salesforce Clouds and/or Commerce Cloud in particular
• Salesforce Commerce Cloud certification – full stack developer and/or architect, is considered as a strong advantage
• Experience in customer-facing positions as a professional services • Experience with modern software development methodologies, with emphasis on multilayer software architecture, design and development
• Experience in developing and delivering technical solutions for complex integrations of 3rd party systems and services
• Proven experience and deep knowledge of ecommerce best practices on delivering omnichannel experience for customers
• Programming experience in Java, PHP, JavaScript, .NET, or equivalent languages for the web
• Experience in modern frontend and JavaScript frameworks
• Experience in software deployment and lifecycle within large-scale environments
• Ability to work collaboratively with senior business stakeholders on product development and improvements
• Exceptional communication - written and verbal, as well as presentation skills
• Quality driven, open-minded, creative, intelligent, and self-confident
• Team player that works well even in non-collaborative environment
• Domain level understanding of Cloud Infrastructure and Softaware as a Service products
• Experience with Salesforce Clouds and/or Commerce Cloud in particular
• Salesforce Commerce Cloud certification – full stack developer and/or architect, is considered as a strong advantage
• Experience in customer-facing positions as a professional services • Experience with modern software development methodologies, with emphasis on multilayer software architecture, design and development
• Experience in developing and delivering technical solutions for complex integrations of 3rd party systems and services
• Proven experience and deep knowledge of ecommerce best practices on delivering omnichannel experience for customers
• Programming experience in Java, PHP, JavaScript, .NET, or equivalent languages for the web
• Experience in modern frontend and JavaScript frameworks
• Experience in software deployment and lifecycle within large-scale environments
• Ability to work collaboratively with senior business stakeholders on product development and improvements
• Exceptional communication - written and verbal, as well as presentation skills
• Quality driven, open-minded, creative, intelligent, and self-confident
• Team player that works well even in non-collaborative environment
We will be happy to review your CV and get in touch with the short-listed candidates. We treat your personal information with respect and confidentiality, guaranteed and protected by law.