Technical Lead
Technical Lead (Salesforce Commerce Cloud)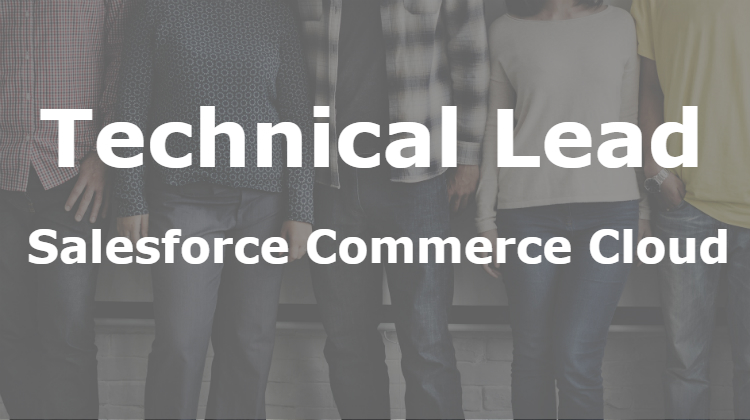 About the company:
Tryzens is an international digital commerce consultancy. Their areas of expertise include delivery of eCommerce solutions, multi-channel retail solutions and project management amongst others. The company has a platform-neutral independent approach working with the world's leading technology partners (Salesforce Commerce Cloud [formerly known as Demandware], IBM Websphere, Hybris, Magento and EPiServer). Tryzens has been awarded Salesforce Commerce Cloud's EMEA delivery partner of 2017!
Main Activities:
• Create an inspiring team environment with an open communication culture
• Set clear team goals
• Delegate tasks and set deadlines
• Oversee day-to-day operation
• Work closely with our customers to understand their business requirements and propose technical solutions
• Participate in hiring on new team members
• Monitor team performance and report on metrics
• Motivate team members
• Champion good engineering and management practices in the team, and continual improvement of related processes
• Discover training needs and provide coaching
• Listen to team members' feedback and resolve any issues or conflicts
• Recognize high performance and reward accomplishments
Requirements:
• 2+ years of experience managing teams
• 5+ years of experience in web development
• leading technical and business discussion with clients and internal teams
• Excellent written and verbal communication skills in English
• Some travel to UK will be required
• Advantanges: experience working in the ecommerce domain/ experience with ecommerce platforms
What you can expect
• You would be working on existing & new customers' online stores, developing new functionality using the latest techniques. No archaic projects to support :)
• Deep dive in the amazing world of JavaScript: front-end and server-side JavaScript development;
• You will work at all stages of the development cycle: estimation, design, implementation & testing, providing feedback to evolve our development processes
• Work with a leading, truly SaaS based e-commerce platform
• Learn the industry inside out (payment transactions through various APIs; integrations with 3rd party systems through various comm channels; shopping cart functions, products & properties;
advanced pricing models; real time intersystem communication & synchronization, etc.)
• Learn & share while making peer code reviews
• Use best practices for project management, deployment and release
• Work in a team of bright, friendly and cooperative people
Conditions

• Office in the city center
• Extremely competitive remuneration package
• Technical trainings and certifications
• Flexible working hours
• Food and gift vouchers
•Transportation allowance
• Additional health insurance
• Great work-life balance and 25 days annual vacation
• Fresh fruit and drinks in the office
• Regular team events
• Work in a team of bright, friendly and cooperative people
• A positive and fun environment



We will be happy to review your CV and get in touch with the short-listed candidates.

We treat your personal information with respect and confidentiality, guaranteed and protected by law.