Full Stack Developer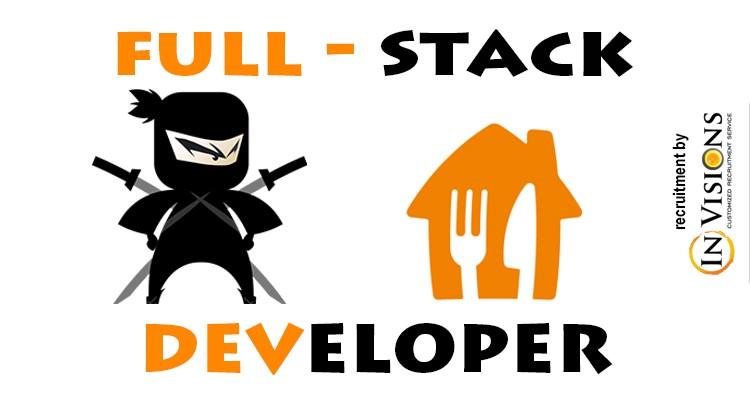 The company is:
"Takeaway.com" is Europe's leading online and mobile food ordering company, dedicated to connecting hungry people with their favorite local restaurants. The people who work at Takeaway.com are the company's greatest asset; each person at Takeaway.com plays an integral part in building tools and technology that help connect and transact their consumers and restaurants - at scale.
The nominees are:
Highly driven Full Stack Developers, who gets excited tackling challenges, takes ownership for his/her work and loves working with talented people. You will play a key role in the development of diverse libraries and tools as part of a multinational and multicultural team of full-stack engineers working in our different offices across Europe.
Criterion 1:
● You are proficient with PHP (OOP), familiar with the Laravel Framework and Javascript (e.g. React, ES6);
● You have higher technical education degree and at least 3 years of backend development experience. For the Senior role 7 to 10 years of advanced proficiency is required;
● Strong ability in coding standards-compliant and cross-platform web pages;
● Experience in relational database design for MySQL in creating optimized web pages, SQL queries, and database structures for high-load environments;
● You have worked with loosely coupled microservices and (RESTful) APIs;
● You practice Test Driven Development using unit-testing technologies;
● Experience with code versioning (especially Git)
● You will be happy to convert legacy code to modern Laravel code and improving the code-base;
● Modernize the front end of Takeaway web applications by utilizing Vue.js;
● Develop stable and time-critical solutions for millions of client all around Europe and beyond;
● Build tools for restaurant and logistics partners to allow them to perform better and to serve our customers.
Criterion 2:
● You're passionate about development, with a general thirst for knowledge and a significant interest in new technology and struggling for excellence.
● You're innovative and creative, with a concise, precise and effective approach to problem-solving.
● You're able to meet tight deadlines and remain calm under pressure.
● You're analytical and inquisitive, with excellent attention to detail.
● You're good at absorbing large amounts of information, with a general hunger for learning.
● You are self-motivated, proactive and a collaborative team-player that is willing to share knowledge
● You keep up with the latest trends in backend development.
And the winners gain:
● A working atmosphere characterized by team spirit, trust and open communication as well as a high degree of personal responsibility;
● A place where your ideas are heard and where you can really grow and learn with your team;
● Being part of a young, professional and truly international team;
● The opportunity to learn new concepts and practice them in a safe environment;
● Free drinks, fruit, several sports benefits and regular awesome team events;
● A more than competitive salary with (long term) incentives in accordance with your experience;
● "Takeaway" offers career advancement and lucrative compensation. The Technology department has regular knowledge sharing, training and attends/speaks at global conferences.
It is great that you stopped by  We can discuss details after dropping me a message here and/or sending me an email at This email address is being protected from spambots. You need JavaScript enabled to view it.. Your personal data is protected by Bulgarian low and European regulation.

Have a wonderful day,
Ina